Culture and perseverance define the success of automation in banking
Rik Coeckelbergs
Founder and CEO
The Banking Scene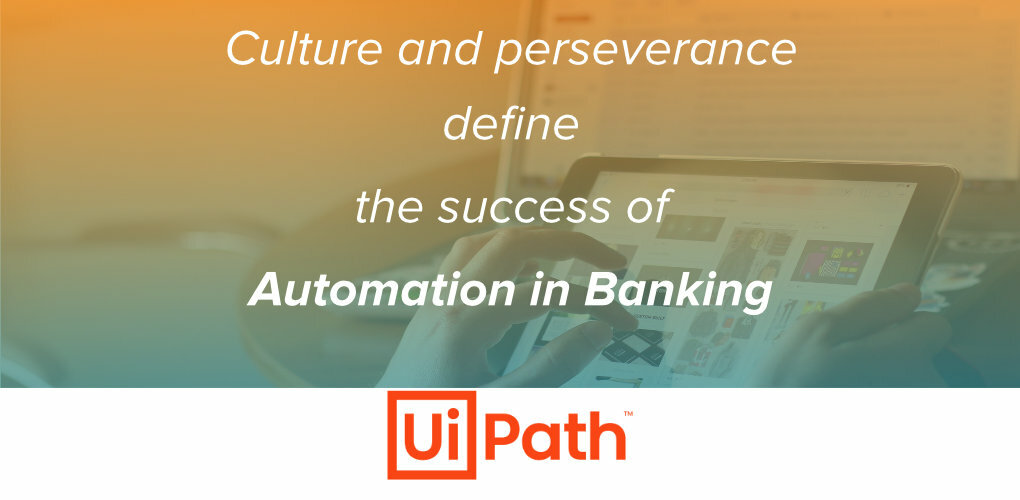 The previous blog explained what our three experts in the panel on March 25 looked for in the automation journeys. As with digital transformation (and any transformation within an organisation, in fact), the hardest part is the cultural change. How do you convince your peers to embrace uncertainty and change as a way to a better environment?
So, this article collects their suggestions to make the cultural change within organisations to embrace automation. Additionally, we investigate how the audience and panellists thought about Intelligent Automation and hyperautomation as hype or an opportunity to lift their automation project to the next level.


Change your culture
The first question raised by the audience in the session of March 25 was: "How do you change the culture within a bank to start using RPA and automation? And how to adopt it as a standard for IT or business solutions?"
In a previous session, we learned from Sidney Madison Prescott, VP of Intelligent Automation at Spotify, that one of the most important aspects was: "to make sure senior leaders understand and are built into the overall vision. Realise who your stakeholders are, realise what your plan to deliver is, manage expectations from a leadership's standpoint, and understand shareholder standpoint. And then finally, make sure that you're really looking at the right business metrics, rather than thinking about how many bots I get into production."
In other words: forget about the technology KPIs initially, but focus on the human side of the project: people and stakeholder management.
Sezgin Lüle, Deputy CEO, shared that İşbank started its journey with a bottom-up approach. With the first successes, RPA was quickly added to the transformation portfolio. The barriers to entry were very low, and people rapidly understood how easy it was to spread it out through the organisation.
He confirmed that top management support is important. Within İşbank, even the CEO followed an RPA developer training. Agreed, it was a speed course, but it symbolises the buy-in from top management, facilitating cultural change.


Activate the entire organisation
Sezgin: "You need to spread this cultural understanding that people look after the change as well. It's not easy. You do it by having your RPA champions. You start to have people in different departments, going to the edge of the organisation that people suffer from that boring stuff. Managers, most of the time, are not aware that there are some inefficiencies."
As more processes were automated, people were given time to reskill and learn the essential of RPA, resulting in more automation, ignited by the business instead of a dedicated automation team.
Nicolas Boitout, Head of CoE in "AI, Analytics & Automation" at Société Générale GSC, added to that: "Automation, in all perimeters of the bank and agility at scale, somehow came simultaneously, and we saw that they were important to put in place together." The new way of work must be stimulated from the top, and low hanging fruit will convince them to adapt.
However, in a later phase, the change must come from the users, as managers often have no clue where the pain points are in the process. Nicolas referred to the Citizen approach to enable this. By reskilling people, banks can build a team of Citizen developers, non-technical resources within business groups who understand low-code and user-friendly tools to automate without permanent support of IT.


Find the one issue that is not on anyone's deliverable list
Tarun Sharma, Director | DQ Program - F2B Lead UK | Data collection and controls at Citi, had a slightly different experience, and this translated into an additional advice related to cultural change. He has a more entrepreneurial approach to it. He said you should look for the one problem for which a solution is not on anyone's deliverable list, whether that is budget constraints, the lack of the right talent or insufficient time. Perseverance in resolving this may ignite the first sparks to a movement to more automation.
Tarun: "Make yourself popular by solving that one issue yourself through any technology, whether that is RPA, DPI (digital process automation), hyperatomation, whatever. Once you solve that one case, it will make you popular. Don't worry about you want to change your vision, pick up the problems, which are not getting solved in a traditional way, find unique ways, and that's what humans are, we find a way to survive a way to improve."
Nicolas warned, though, to avoid getting in conflict with IT. The convenience of RPA sometimes allows business to neglect IT in the overall process.
Tarun quickly repeated that essential in this entrepreneurial way of working is building it only when IT cannot help you: "Never automate on your own, or you will be beaten up".


Adding Intelligent Automation and hyperautomation in the loop
As we know the three automation stories now and the experts' advice on adding the automation mindset in the DNA of the organisation, it is worth looking at how far banks should go. Is Intelligent Automation and hyperautomation worth investigating?
Despite the buzz, intelligent automation and hyperautomation are relatively unknown. As you can see in the below graph, the higher we go in terms of sophistication, the less familiar people are with automation, up to 50% asking what hyperautomation actually means.
Keeping that in mind, the following poll results will not surprise you, where we asked if the attendees see Intelligent Automation and hyperautomation as an opportunity or a hype. The majority of the attendees saw Intelligent Automation as an opportunity (72%).
Still, when we look at hyperautomation, there is more doubt. Only 47% answered it is an opportunity. 35% said they don't know or have no opinion on it and another 19% saying it is hype.
Nicolas had a very clear opinion on this matter. Having deployed many AI models and deep learning, he believes that both trends are currently overhyped. To make his point, he referred to an internal project to classify incoming messages based on labels.
Because of its complexity, the team concluded that the results were insufficient. The HR department realised had much better results in managing requests and compliants by tweaking the website, so people labelled the messages before they were sent. This already classified 80% of the incoming tickets.
Nicolas: "AI should be the ultimate solution that we put in place, when we have no other way of changing a process, changing a user, the user experience and the user interface, that is when AI would be valid. Here I am thinking about Intelligent Automation."
Sezgin had more positive experiences with Intelligent Automation at İşbank, although it is still early days. An exciting automation project where they added AI was on price setting.
Sezgin: "We are talking about customised pricing offers to the customers on the mobile channels, so no human intervention. AI measures the price elasticity based on different data sets within the organisation and calculates whether an offer is being accepted or rejected. Even tapping on the screen, the few second to think over an offer can make a difference. All those things are captured to offer new prices, and that has been very successful."
By automating this process, they cut the relationship manager out of the process for mobile banking, and they have more objective criteria and fairer pricing for their customers.
Tarun agreed with Sezgin, saying: "We are solving some very complicated cases in banking. And I can tell this to everyone your biggest opportunity is sitting in dormant accounts. That's where your biggest business opportunity is. Accounts exist in your system; that's your biggest business opportunity, as well as the biggest opportunity of your risk. For that, we are testing out the concept of multiple automations together."
This is yet another exciting example of Intelligent Automation where AI and automation come together to streamline internal process and control mechanisms. The concrete use cases for hyperautomation are currently less evident in my and our experts' opinion.


Conclusion
I hope you understand now that automation in banking can only be successful once the entire organisation understands the importance of automation in their day-to-day life. From then on, the sky is the limit.
Today you may be looking at automating mundane and repetitive jobs. Tomorrow, Intelligent Automation is cleaning your balance sheet and setting the right price for your customers, leading to further growth without impacting your personnel cost.
Make sure you free your agenda on September 9th, when we welcome Chris Skinner, author and commentator at The Finanser and Nitin Purwar, Director Banking Industry Practice at UiPath to discuss "Automation for Good: Automation as an enabler for ESG and Sustainability in Banks."