Price Transparency in Banking: The Membership Model of Aion
Rik Coeckelbergs
Founder and CEO
The Banking Scene
When technology is taken for granted, the future of banking is no longer a pure technology debate, but requires a more profound discussion on business model innovation. Aion is one of the challenger banks with an alternative vision on banking: Aion does not onboard customers, they onboard members. They don't have a call centre or customer service. They call it a customer happiness centre.
On July 16, we had the opportunity to speak with Kim Van Esbroeck, Country Head Belgium of Aion. Kim has a long history in the banking, fintech and payments industry, predominantly in the cards business during her time at Bancontact (Payconiq Company) and Clear2Pay.
The youngest bank in Belgium with the oldest licence
Out of Warburg Pincus' acquisition of the Belgian activities of Banca Monte Paschi Belgio, including their Belgian banking licence, a lot of market research and Vodeno's latest financial technology arose a new generation of banking: Aion.
According to their market research, customers expect from their banks to be a trustworthy partner, with transparency in pricing is, so that is what they aim to achieve. In the first week of March, one week ahead of the lockdown in Belgium, the bank launched its retail offering. At the end of May, with a small delay, they introduced the SME offering.
At the press conference of Aion's launch, I interviewed their Chief Commercial Officer Wojciech Sass, who said: "The main issue is that when you would look from the service perspective, it is positioned to the customers as a service which quite often seems for free, but in reality, it's not. We, as customers, pay for everything, and quite often, we are unaware."
With a subscription-based membership model, they believe that customers immediately know what they will pay, a premium and a light version. The membership fee determines what services they can consume, not the other way around.
Concretely: you cannot pay extra for a credit card; you simply don't have access to it with a light membership.
Simple, no?
They believe they can go further than just full price transparency: they promise to help their consumers saving money, which should be the primary goal of a bank, according to them.
What's more: they promise to pay back the monthly charges to the customer if they didn't fulfil that promise by the end of the year. Their conviction is that if the consumer pays 19€/month for a premium membership, they should get minimum that value back from Aion.
Subscription vs regular pricing
This premium membership may be priced at the low end in some countries, but it isn't in Belgium, where consumers have many free offerings at their disposal at incumbent banks. Although the number of services will considerably less, consumers may first decide on that one number below, the monthly fee.
The challenge for Aion will be to convince the consumer to look further than just daily banking. For customers that cannot be assured from the start, they also developed a light membership, which is only at 1/10 of the price. The price and services are comparable with the daily banking offering of other Belgian banks (including Google Pay, ApplePay, a multicurrency debit card…).
Ultimately, Kim believes that the premium membership is where the real value is for the customer (you will also notice that in the onboard process 😉). Access to for example, following services, enable that you get more value in return:
A savings account scanner to redirect the customer to the best savings account provider
An energy supplier scanner for the best energy rates in your neighbourhood, including switching service
A lower price scanner for your shopping: send the invoice of your latest dress to Aion and let them look for a lower price for 30 days.
In line with the transparency they aim for, they have a very open approach, to almost everything they do. Kim: "open banking is at the heart of our company. We defined the project with open banking and PSD2 at the heart of our architecture. Everything is built around this."
Their Max Deposit is a service where they scan the entire market for the best savings rates, not just Aion savings. Soon they hope to be capable of providing a switching service. Unfortunately today, they are limited to the open banking maturity level of their counterparty.
Another example: for a personal loan, they set up a service to scan the account details of a customer's primary bank to do a credit scoring.
A third example: switching to another energy provider is also available if your direct debit is linked to a third-party account.
To convince customers of the value of Aion, they set up a money-back guarantee. Kim: "We are so convinced of the value that we bring to our customers, that, if on a year time you don't earn more than what you paid Aion in membership fees, we pay you back the difference."


What is Aion challenging in the market?
To make sure they fulfil the expectations of Belgian customers, they invested a lot in locally relevant functionalities from the very start of the bank. The focus on proximity, their knowledge of the local market and a service offering to satisfy the domestic demand, is an essential differentiator from the average challenger that often builds a universal service offering to create economies of scale.
Kim: "Our focus is to help our customers as much as possible in a digital way: onboarding is in-app, the request for a loan is in-app, opening an investment portfolio is in-app and so on. At all time, though there is a possibility to get in touch with a real human."
The human, personal service is an essential part of their vision to be a trusted partner. People that chat with Aion talk to customer happiness centre employees; they have no interaction with a robot. Through permanent screening of the processes, the customer happiness centre may reach out proactively if they detect a customer with troubles finding his/her way to the desired services or outcome.
When we asked the audience whether they believe that Aion has the potential to become a true challenge for the Benelux banking industry, a majority of 53% thought they pose a challenge to the current players.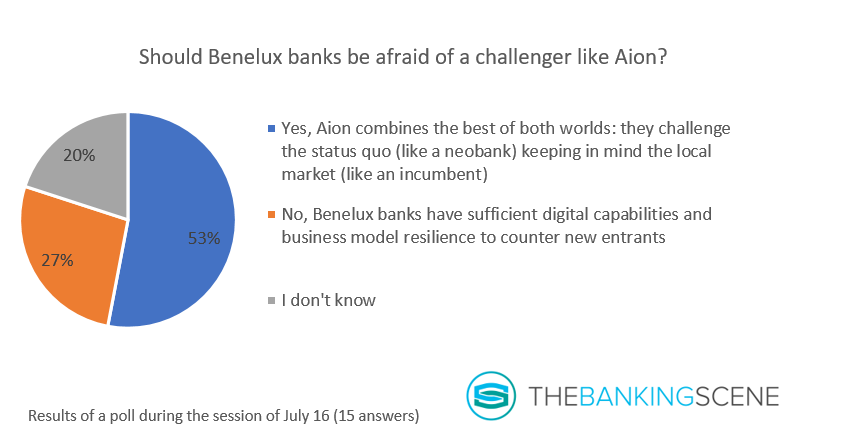 Leaving out the 'I don't know' makes the message even more compelling, with 66% of the respondents with an opinion saying that Belgian banks should be afraid. Aion combines the best of both worlds: they challenge the status quo, like a neobank, keeping in mind the local market, as an incumbent.
Effectively: if played out well, they have a unique mix to change the market. Today mobile-first is no longer enough to make a difference. Aion takes new technologies for granted, and it makes a difference with their business model.
Kim is humble in her reaction to this feedback: "It is not at all our intention that other banks are afraid of us. On the opposite, we look forward to partner with them. We don't want to be a nasty kid on the block."
Coming back to the topic of the day: does subscription banking ensure full transparency in banking? The results of our second poll were decidedly mixed, as you can see in our Graph 2:
75% (2x37,5%) saying it will, or it may ensure full transparency, leaving 25% that does not believe in it. The risk of the customer to end up paying for services that he does not need is real in the subscription model. You see it in telco, the newspaper business, Netflix, many software providers: you pay for access to a service instead of paying for using the service.
Kim: "You know the price upfront; you know you will pay 19€/month. In my opinion, you make the decision prior to joining. We tell you what services are listed in the deal and you decide that you will make a profit out of that."
An essential additional argument against consumers paying too much is the money-back guarantee. If a consumer does not earn enough as a member, Aion pays the difference back.
Too good to be true?
As befits a round table, quickly came the question from the audience of how all this is financially viable. The answer is, according to Kim, very short:
"We offer all this at a low-cost base. We are a new bank and our technology provider Vodeno is new. They established in 2018. So everything is built new, keeping in mind to be as efficient as possible by making use of the best breed technology and working with the best experts in the field."
For a couple of years, Vodeno built with several partners on a platform that enables Aion today to be 40% more efficient than the market standard. Ahead of the launch of Aion, they spent only five months to review their process, to migrate the old customers and to change the entire organisation to the new reality, according to Kim, all with a workforce of only 250 employees.
The branch legacy is limited: they have one flagship store and four branches as a heritage of Banca Monte Paschi, which keep the branch costs low compared to other banks.
"How about marketing costs?" someone in the audience asked. Because of its digital mindset, Aion looks at marketing differently, according to Kim. Digital marketing on Facebook and Google are cheaper than traditional media. On top of that, they are convinced that successful products sell themselves. The most influential marketing is word of mouth. Once that works, Aion's sole duty is to assist the prospects in finding their way to apply for membership.
The low cost in combination with the monthly fees is the secret to the diverse list of services that they developed and offer to their customers.
Is COVID-19 a blessing or a curse?
Aion bank opened its services one week before the lockdown measures in Belgium. That must be the worst thinkable situation, severely damaged the launch campaign of Belgian's youngest bank.
However, the long-term impact may not be that negative. We asked for an opinion from the audience in our last poll and found that the majority clearly believes that COVID-19 is a blessing for Aion, which was confirmed by 75% (Graph 3):
A survey conducted at the end of May revealed that 77% of the participants visited a bank branch in the last 12 months at least once, only 40% intended to visit a branch in the months to come. Kim: "You see a declining trend of people that want to visit a bank branch, whether you like it or not."
Another conclusion was that the respondents expect more digitalisation from their bank post-COVID-19. Many people got used to it, and now they don't want to go back to the old way of banking. Today, the appetite for digital solutions is no longer limited to the younger generation. In that sense, COVID-19 did have a positive influence on brands like Aion.
Kim: "COVID-19 helped a lot to push and to accelerate what was already slowly taking off (the call for more digital services, this helped us because we are a digital bank. On the flip side, we went live one week before the lockdown. Without COVID-19, we would have launched our marketing and PR activities already in March."


Conclusion
The idea to offer customer banking packages instead of daily banking packages is, to me, pretty revolutionary, just like the services they provide to make sure the customer saves more than he/she spends on the membership.
I am not saying this is the answer to all transparency in banking, and probably not even to all price transparency, but there is clearly a market for this model.
To me, Aion has one of the best answers I've seen to counter for example Cake, the other 'profitable banking app'. They both have a compelling offering to end up with more money, but the approach is different. One offers financial services and makes the most of it, the other bets 100% on open banking and the willingness of the customer to share all their financial data. Off course, non one is stopping the consumer of benefiting from both services for a maximum return of his/her financial data.
Like with every offering from a challenger, some ingredients will be copied, and some elements end up being waste at the end. Nevertheless, I see a lot of potential, and I look forward to witnessing how the existing players will anticipate this new bank.