How to build a bank - Morgan Wirtz' Journey to Launching Rise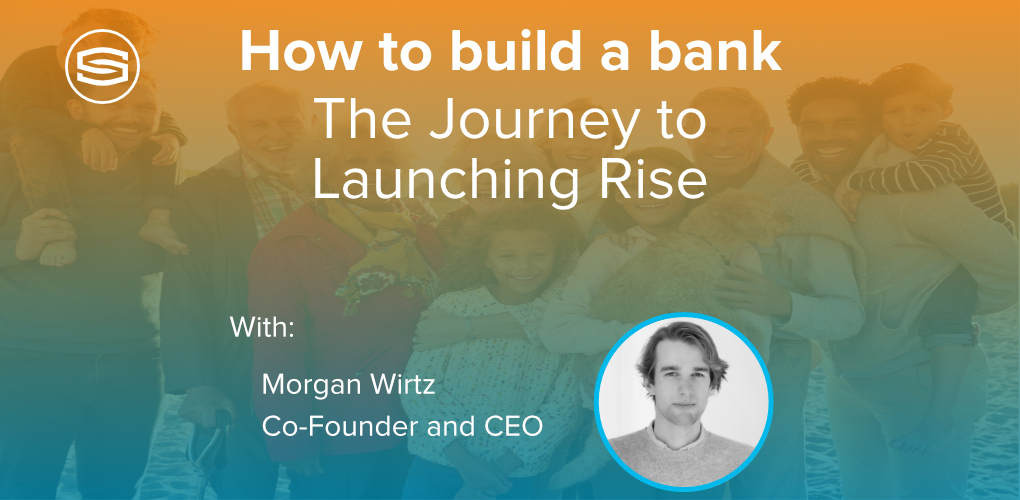 You may know Morgan Wirtz from the news, social media, an event, The Banking Art Night on October 25, 2022, or The Banking Scene Afterwork. He is the CEO and founder of Rise, "The money app & debit card for teens, loved by parents".
Last year, Morgan joined us at The Banking Scene Afterwork to explain Rise's mission and ambitions. This time he joined us for a more personal session on how his past 12 months were in launching the bank.


Launching the bank
Launching a bank, making it tangible and open for evaluation and re-engineering after two years of reflection and development, is a highly vulnerable and exciting period. Rise started onboarding clients gradually in March 2022, based on a waiting list.
Morgan: "We welcomed these early adopters in March to test the products and share with us their feedback. We followed up very closely with these families at that point. And it was also evident that we had to improve a lot. The fundamentals were there, but so many things were missing."
The ones familiar with the offering of Rise know that the challenge is two-fold: there are the parents with expectations and the children with entirely different expectations.
Parents look at Rise as a bank and expect the same level of trust in leaving their money at Rise (yes: there is a difference between trusting a bank and trusting your money with a bank).
On the other hand, children need a good and easy experience to lift financial knowledge and learn healthy financial habits.
Morgan: "Parents told us it's important that their kids have an amazing experience where they learn. For them, the key is that in one glance, they can have an overview of their kid's financial world, with the proper parental controls, and they can see the evolution."
6 months and around 40 app releases later, they opened for everyone with a Back-to-School campaign in September.
Rise's key audience is children that start going to high school. The challenge for Rise is to convince parents to open an account for their children's money management with them instead of a traditional bank.
The feedback from parents taught them that they are not looking for an educational platform for their children to manage their money. The app should not replace the parent's job to educate their children, but it should open the discussions for education.
Morgan: "The very first priority was how to make a super engaging experience, super simple, super playful, so kids feel connected to their bank and use it for more than just card payments. From there on, you incorporate more tools, not only an account to spend but also an account to save money with saving goals. So, they are actually making their trade-off with their money."


The Biggest Challenges and Success Stories Over the Past 12 Months
Launching a bank goes with ups and down. Luckily, the young team is backed by a few senior non-executive banking veterans who advise them constantly.
Morgan explained that his biggest challenge over the past 12 months was meeting the deadlines in the development roadmap. Of course, building a bank in 2 years at his age is very ambitious. Morgan was 20 when they started the project.
Once they had the minimum viable product in March, they needed to build new iterations to improve the product and the onboarding process. The near-future challenges are the more strategic dilemmas: what are the next steps for more financial education and a higher level of financial knowledge of youth?
Successfully dealing with these challenges is also what Morgan is most proud of: "the period that gave me the most satisfaction was the improvement period since March: seeing the feedback of families improving day after day, release after release was impressive. By the end of this summer, parents started saying they were completely open to discussing with their children about money. Children came to us and said they made conscious trade-offs about spending the money with their Rise card or putting it in their savings to achieve their savings goals faster instead. Hearing all the gives me the most energy today."
One of the Back-to-School campaign's most surprising side effects was the attention they got from incumbent banks that wanted to see if Rise was open to investigating the opportunity to set up a collaboration or a B2B offering to help these incumbents with the challenge of financial education.
All that was, of course, a CEO talking. Digging deeper, we learned that Morgan had another, more personal success story: he achieved spending time with one of his favourite Fintech role models. After an introduction by a Revolut executive, Morgan was invited for dinner in Amsterdam with John Collison, the Founder and President of Stripe.
Typical for Morgan's drive was that he immediately added what he learned from him: "what matters is almost at all costs, we built a product 10X better than anything else, and everything follows."


Conclusion
Over the past 12 months, I had the chance to speak to Morgan a few times, and he keeps surprising me with the fast evolution, not just of the company but also personally. He is only 23 years old and successfully building a B2P offering, and in parallel, they are now looking at the B2B market to see if that could help them to achieve their mission faster.
I'm curious: if they can build an offering that is 10X better than the rest, where will this adventure stop?